No One Is Alone: Songs of Love and Compassion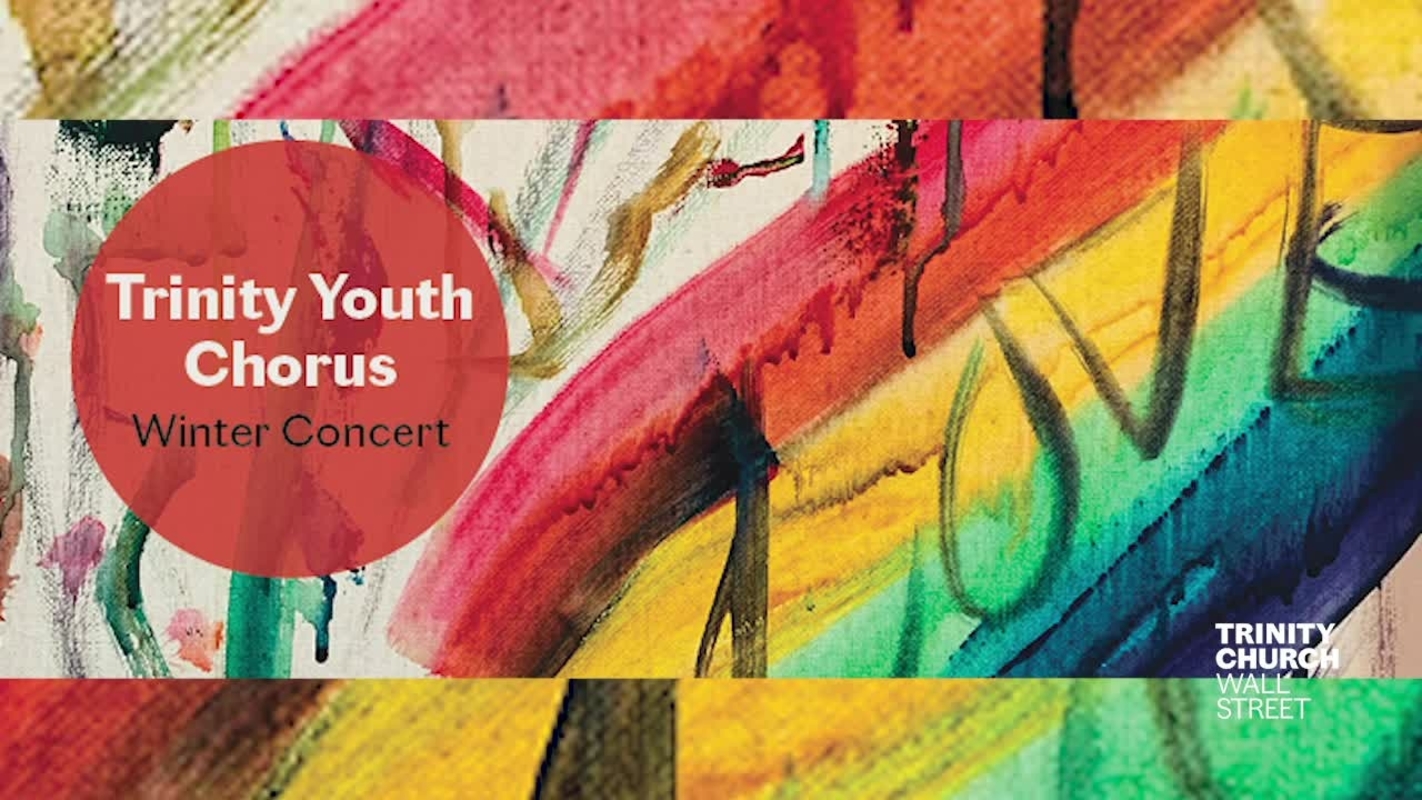 Inspired by the Gandhi quote "In the Midst of Darkness, Light Persists," we hope the sweet talented voices of the Trinity Youth Chorus bring you hope and light in their stunning virtual concert: "No One is Alone: Songs of Love and Compassion." This performance features a variety of works performed by ensembles and soloists, juxtaposed with inspired artwork by the performers.
---
The Trinity Youth Chorus brings together talented youth ages 5 to 18 from the five boroughs of New York City. Choristers receive individual and group training in vocal technique, music theory, sight-reading, and performance skills from a group of dedicated professionals led by Melissa Attebury, Trinity's associate director of music.
When we are open for in-person worship, the choristers provide musical leadership at Sunday services alongside The Choir of Trinity Wall Street and offer concerts throughout the season, often performing with Trinity's professional ensembles. Recent highlights include Orff's Carmina Burana, Bernstein's Chichester Psalms, a fully staged production of Britten's Noye's Fludde, Ellen Reid's Winter's Child at the Prototype Festival, Ginastera's Turbae ad Passionem Gregorianam and Mahler's Symphony No. 8 at Carnegie Hall, and Britten's War Requiem with the Queens College Choral Society. Recording projects include Philip Glass's Symphony No. 5 and Lisa Bielawa's My Outstretched Hand with The San Francisco Girls Chorus and The Knights.
The Trinity Youth Chorus is featured in the films Love is Strange and Doubt, as well as Lisa Bielawa's made-for-TV opera Vireo; has sung backup for Josh Groban, the Rolling Stones, and Bobby McFerrin; and has been heard on Public Radio International and CBS's The Early Show.
Virtual Instruction
During the 2021 season, Trinity's music education program will remain online. Through distance learning, choristers are continuing to master foundational skills including sight-singing, ear training, theory, keyboard, and vocal technique. Members of The Choir of Trinity Wall Street have also joined our exceptional faculty of professional educators and performers, who bring a depth of experience and passion to their teaching artistry. Choristers are given the opportunity for individual or small-group lessons in addition to weekly online chorister rehearsals. Choristers study new repertoire and learn recording technology to contribute to online Family Worship every week and create online concerts for Comfort at One.
Live music-making will always be at the heart of the Trinity Youth Chorus program, and we view this time as a unique opportunity to provide students with increased individual attention and a more in-depth focus on musicianship. Strengthening these skills will create a strong foundation for making music as an ensemble when we are once again able to gather safely in person.
Join the Chorus
Peppercorn and Junior Choristers (Grades K-5)
We welcome all young people enrolled in grades K-5, regardless of their musical experience or background, into our Peppercorn (grades K-2) and Junior (grades 3-5) training choirs. We're looking for mature students with an interest in singing and the commitment to attend weekly rehearsals. Please contact Anne Damassa Graff for information about availability and enrollment.
Senior Choristers (Grades 6-12)
Entrance into Senior Choristers is by audition. At the audition, the director will evaluate each student's singing ability, understanding of music theory, and sight-singing skills, followed by a written music theory assessment. Students may prepare a short song to present, but it is not a requirement. A weekly music lab is offered for students (those who are accepted to the choir and those who are not) who require additional instruction in sight-singing/music theory. Auditions are offered throughout the year. To make an appointment, fill out the form below or contact Melissa Attebury.
Schola Choristers (Grades 9-12)
Eligible Senior Choristers are invited by the director to audition for Schola Choristers. Choristers must demonstrate advanced vocal technique, theory and sight-singing skills, and a commitment to attending additional rehearsals and performances.
Rehearsal Times for 2021 Season
Peppercorns (Grades K-2): Thursdays 3:15-4:00pm, online
Junior Choristers (Grades 3-5): Thursdays 4-4:45pm, online
Senior Choristers (Grades 6-12): Wednesdays 4-5pm, online
Schola Choristers (Grades 9-12): Thursdays 4:45-5:45pm, online
Music Lab (Grades 3-12): Tuesdays, specific time TBA, online
For more information, contact Melissa Attebury.